Boss has a powerful impact on your life because you have to follow all the instructions and tolerate the rude behavior of your boss. Maintaining a healthy and positive relationship with your boss will help you improve the working environment.
New Year provides you the opportunity to wish every person in your circle. So you should always send a nice message to your boss containing best wishes for next year.
While sending New Year Wishes to the boss, choose professional wording which also contains some appreciation. You will get the best ideas from here, so have a look below.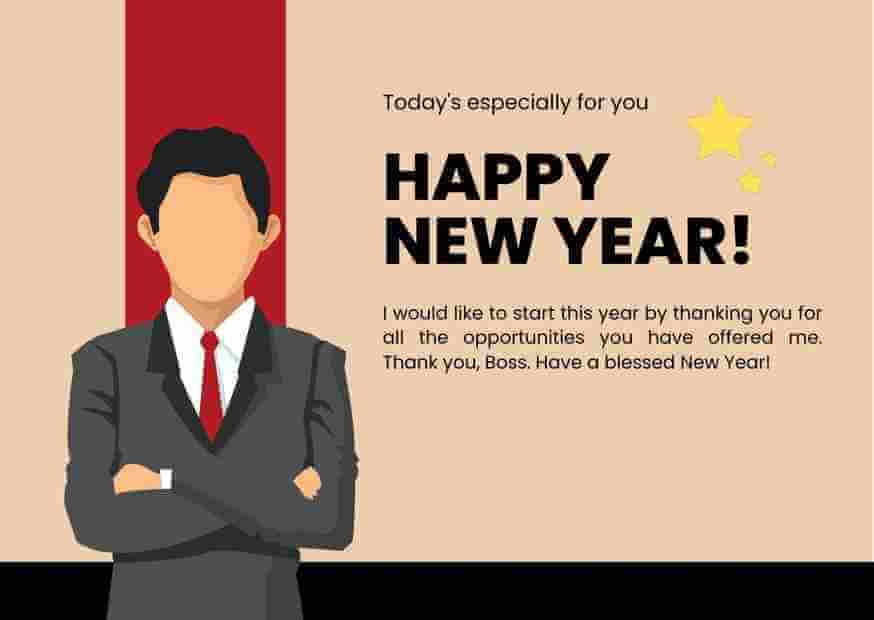 Happy New Year Wishes for your Boss, Mentor and Team Lead:
These happy New Year wishes are ideal for your team leads, mentor, and boss. We have written them in a very professional way.
Happy New Year, Boss! Being my role model, you have helped me adopt many good qualities like determination and hard work in my life. So I am highly obliged to get the opportunity to work with you.
At the end of this year, I want to thank you for allowing me to work for you. During this tenure, I have gained a lot of experience from you. Happy New Year, Boss!
Your strategies and ideas are always on the top, making you the best boss. May you achieve all your goals and gain more success!



New Year Greeting Cards for Your Boss:
Your New Year wishes will get more appreciation if written on cards. But there is no need to make a handwritten card because here you will get the best greeting cards for your boss.
These cards are designed professionally, so you should download them and send your boss this upcoming year, 2024.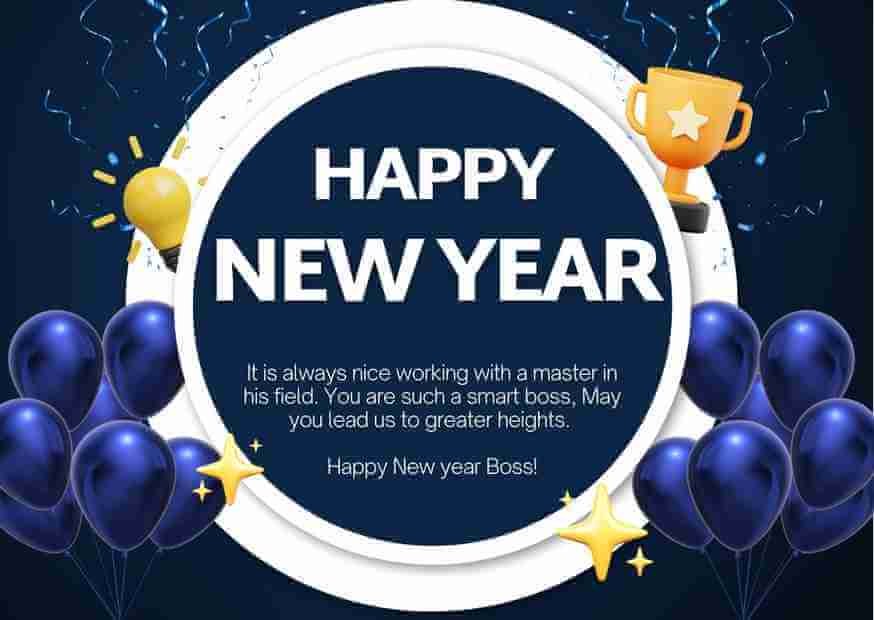 New Year Thank You Messages (Replies) for Boss:
If your boss sends you New Year wishes, then it is your moral duty to thank him/her for these wishes. But only a thanks message is not enough, and you should use nice words in response to these wishes. Here you will get different ideas for thank you Messages to send your boss in reply to New Year wishes.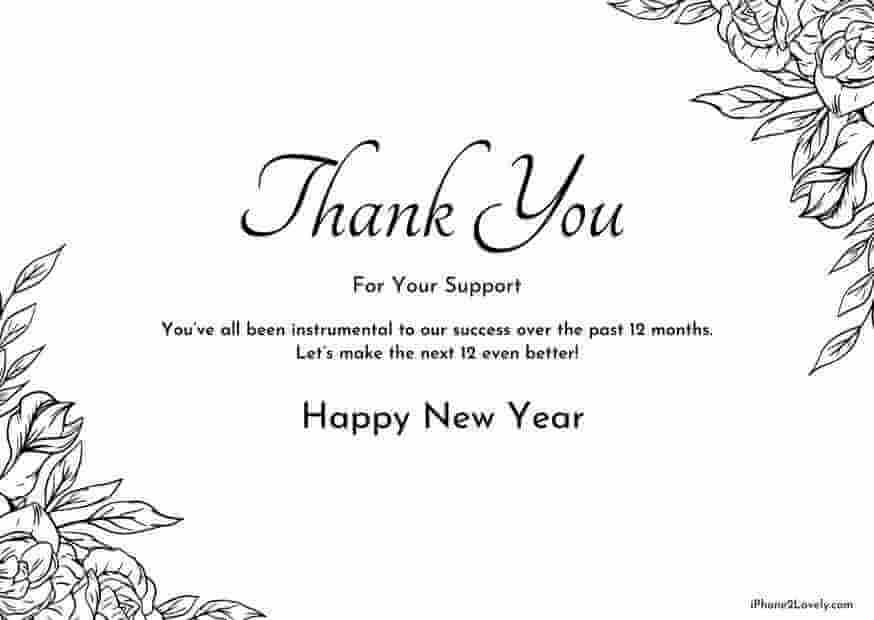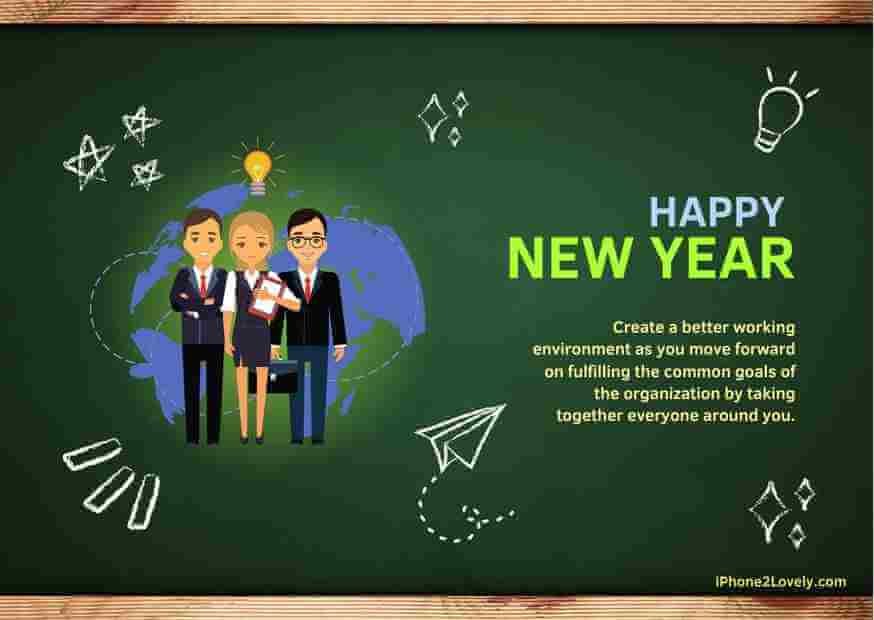 Thank You for sending your best wishes on this extraordinary occasion. It means a lot to me and will make my New Year beautiful. A very Happy New Year to you too!
I wish a blessed New Year to you too! Thank you for sending such beautiful and heartfelt messages on this occasion and making me feel valued. I feel so grateful to have such a concerned boss.
I pray this year brings you and your family a lot of joy, success, and good health. HAPPY NEW YEAR 2024 to you and your family.


New Year Wishes for your Ex-bosses:
For a professional, it is essential to wish those people with whom you have worked in your life. Your ex-boss also deserves some love;y New Year wishes from your side. In this upcoming year, 2024, use some of these messages and wish you all ex-bosses.
Being a wonderful ex-boss, you have always helped me learn and grow. So I wish you a New Year full of opportunities and success.
I feel lucky to have such a loving and caring ex-boss who always stood by me in difficult times. I wish you a wonderful New Year!
You had always been a very kind-hearted, soft-spoken, and understanding boss. I wish you a happy and prosperous New Year with all my heart.
Belated New Year Wishes for the boss:
It is appreciable to send the best New Year wishes to your boss at the right time. But if you failed to do so for any reason, then use these belated New Year wishes freely available here. Your boss will not mind belated wishes after reading the heart-touching wording of these wishes.
I wish you a belated Happy New Year and apologies for being late! I hope that you will accept my heartfelt apology and wishes.