A teacher is a role model for students because they get the light of knowledge from their teacher. We must remember our teachers on every important day of our life. So on the arrival of New Year 2024, you can send these wishes to them.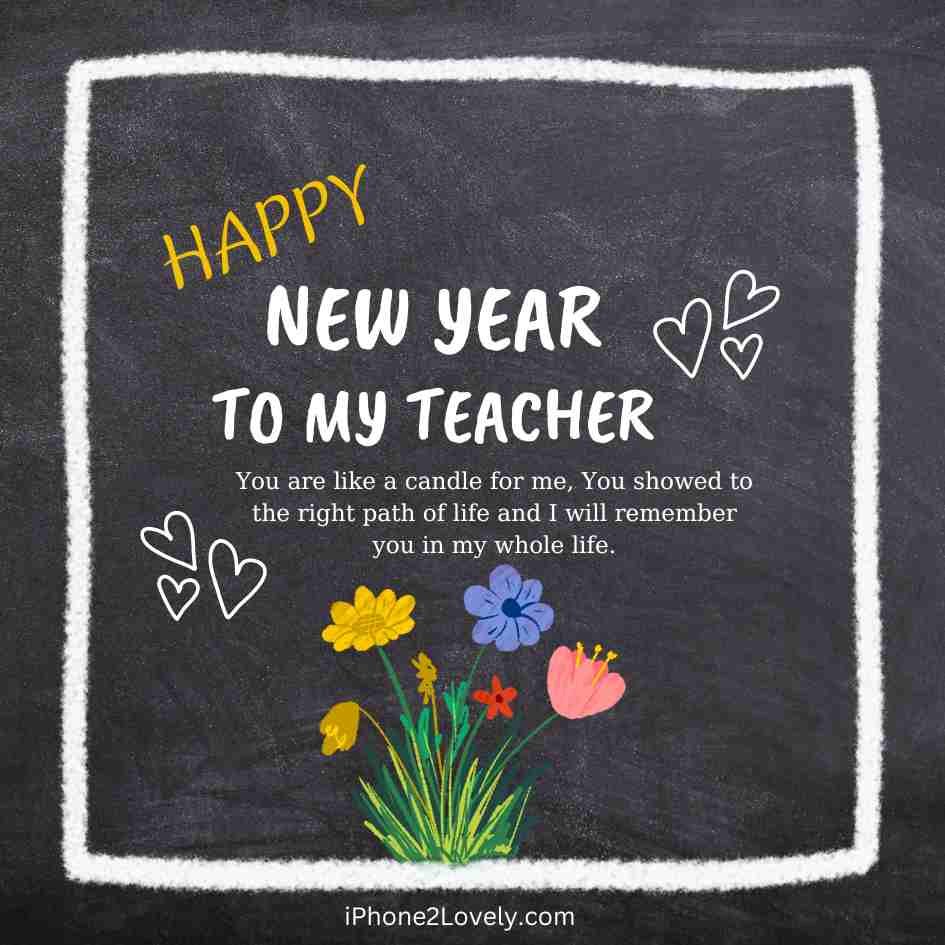 New Year Wishes and Messages for Teacher:
New Year provides you the opportunity to be thankful to everyone who has importance in your life. Read these New Year 2024 wishes for teachers and send them to your favorite teacher to appreciate all their efforts for you.
On this particular occasion, I find it my duty to show gratefulness to the world's best teacher. You trained me to learn and improve myself step by step like a father. Thank you, sir, for your support. Please accept my New Year's wishes.
I am lucky because, in this upcoming year, you are my educator. You are the best one. Happy New Year, teacher!
In my case, it is true that behind every successful student is a great teacher. Happy New Year to the best teacher!
New Year Quotes for Respected Teacher:
We learn new things every day, and behind all such achievements is a big hand from our teachers. Let your favorite teacher know you have learned a lot from them, and the best way to pay tribute to them is to send New Year quotes on the arrival of the year 2024.
I pray that this New Year brings abundant happiness and prosperity in your life, as your teachings have brought them into my life.
Dearest teacher, thank you for providing me with the knowledge that leads to success. Have a blessed New Year!
New Year Greeting Cards for Teachers:
It does not matter how old you are; you would love to accept greeting cards with lovely wishes written on them. These greeting cards are ideal if you are thinking of some sweet New Year wishes for your teacher. You can download these greeting cards free of cost from our website and forward them to your respected teacher on the first of January 2024.
New Year Wishes for Sir:
Do you remember your school-going time when you always thought that your sir was very strict? If you remember, you also know that all such strictness was for your better future.
It is the right time to pay tribute to your sir by sending him beautiful wishes for New Year and telling him that you still remember him. If you are a student, these wishes are also ideal for sharing with your sir.
A student can see the light at the end of the tunnel with the guidance of a teacher like you. You helped your students to walk that distance and reach that light. Happy New Year, Sir!
You have always been a very supportive, understanding, and cooperative teacher. Thanks a lot, sir. Please accept my New Year's wishes.
New Year Wishes for Madam:
Most students get their early education from madams. They can't forget those female teachers' smiling and welcoming faces even after completing education. If you are also among them, then you should acknowledge your madam's efforts by sending her these New Year wishes.
I hope this coming year fills your life with happiness and make it bright as you teach skills to brighten us. Happy New Year, Madam.
Dear Madam, happy New Year. May the coming days be filled with joy and wonder! Much love to my favorite teacher this New Year!

New Year Wishes for your Ex-Teachers:
A student has strong memories of school days that cannot be forgotten in life. The first thing you remember about your school days is your teachers, who played a prime role in establishing your personality. You must pay tribute to your teacher on New Year and teacher's day. If you are thinking of some great wishes for your ex-teacher, then try these below-mentioned wishes.
I want to express my gratitude and respect to my respected teacher for being a symbol of integrity and character. I wish you a happy new year.
You are the candle that brought light, energy, and success to my life. So, I would like to thank you for your love and guidance. Happy New Year, dear teacher.
All New Year Greetings to your Mentors, Gurus, Leaders, and Professors:
After your parents, the essential person has brightened your life by educating you. On this New Year, send these sweet wishes to your mentors, gurus, leaders, and professors.
Happy New Year to our professor, the guiding star who enlightened us with knowledge.
You were always a good mentor. Thank you for guiding me on the right path. Happy New Year, my guru!
Year Messages for Teachers:
New Year allows you to thank your teacher for all your efforts for your betterment. These thank You New Year messages for teachers are ideal for sending to your school, college, and university teachers for their guidance.
May this New Year bring you a lot of success and happiness in your life. Thank you, teacher.
Thanks for the beautiful lessons you taught me to move forward and live in this world. Happy New year to you, teacher!